Eclipses mark periods of heightened transformational pressures, individually and collectively.  An astrologer will always note where eclipses are falling in your birth chart to give you salient information about your evolutionary and growth steps, stresses, challenges, and potentials during the year in question.  Please see "Eclipse Season Tips" for general information about all eclipse seasons.  This page is a brief summary of general eclipse energies for one linked pair of eclipses from a mundane or world perspective.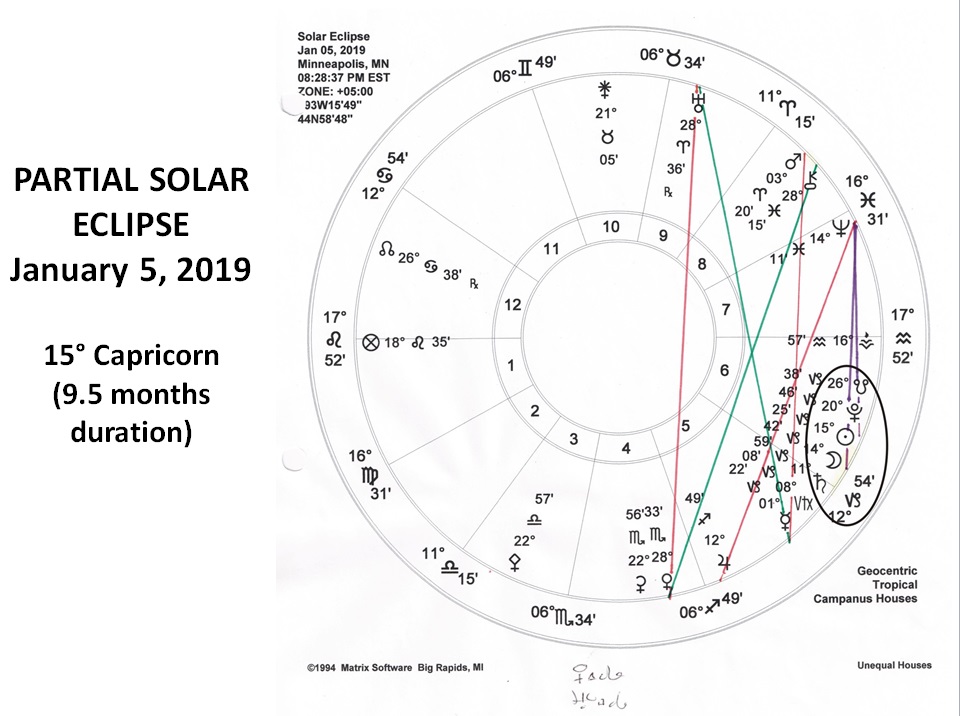 The penumbral Partial Solar Eclipse of January 5, 2019 kicked off the new year with a bang!  Next year the bang will be louder with a Solar Eclipse on Christmas (December 25, 2019) followed by a Lunar Eclipse on January 10, 2020.  At 15° 25′ Capricorn, January's solar eclipse will be in effect for 9.5 months; thru October 24.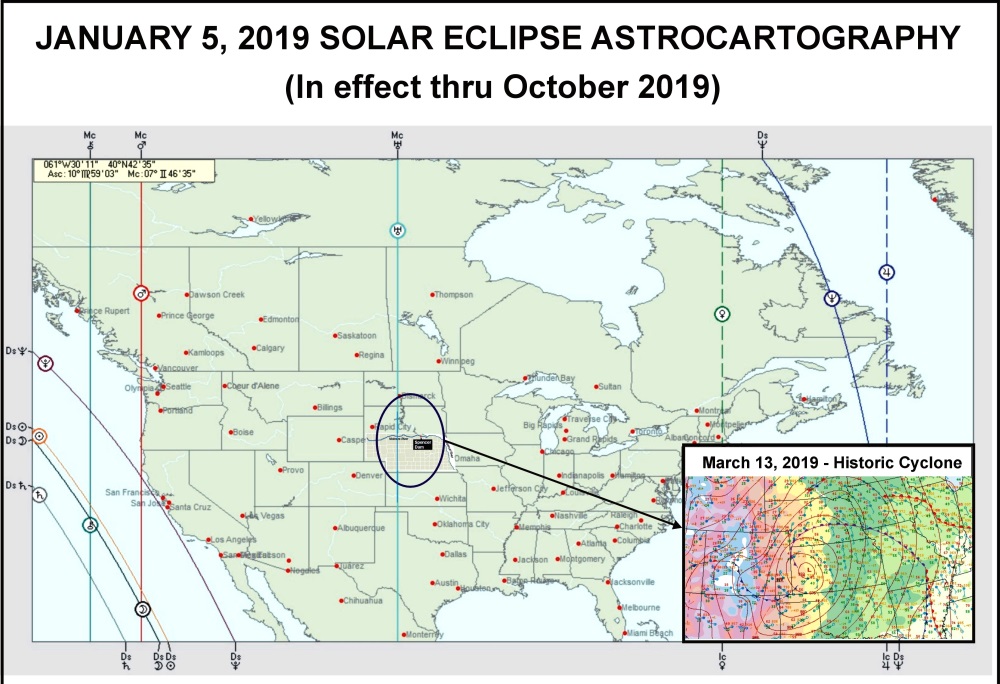 U.S. astrocartography map showing the angularity of planets at eclipse time portends the 'Winds of Change' through the Midwest with Uranus on the Midheaven at that location.  In looking back to the Solar Eclipse of January 5, 1935, I was struck with the complementary nature of this January's solar eclipse with the 1935 eclipse on the same date.  The January 1935 eclipse preceded the greatest dust storm of the 1930s Dust Bowl, called Black Sunday, by three months.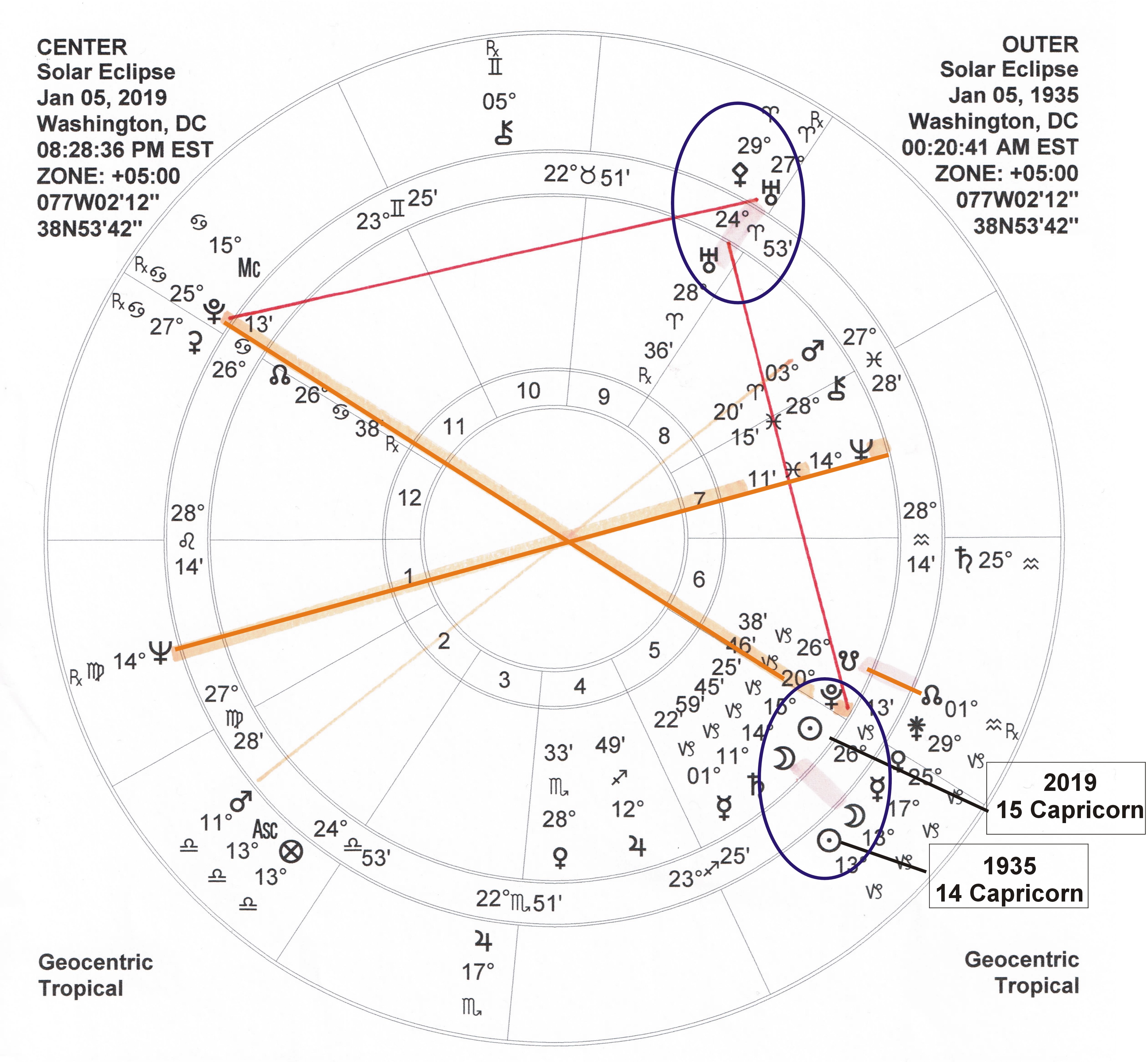 I'm posting this chart comparison (left) for astrologers to consider.  What stands out is the precipitous pressure-drop just before Black Sunday on April 14, 1935 (measurement not known).  Temperatures dropped 25° in one hour in Denver.  Described as looking like 'a tornado on its side', the Black Sunday storm front spanned 200 miles with winds clocked at 65 mph throughout Midwestern States.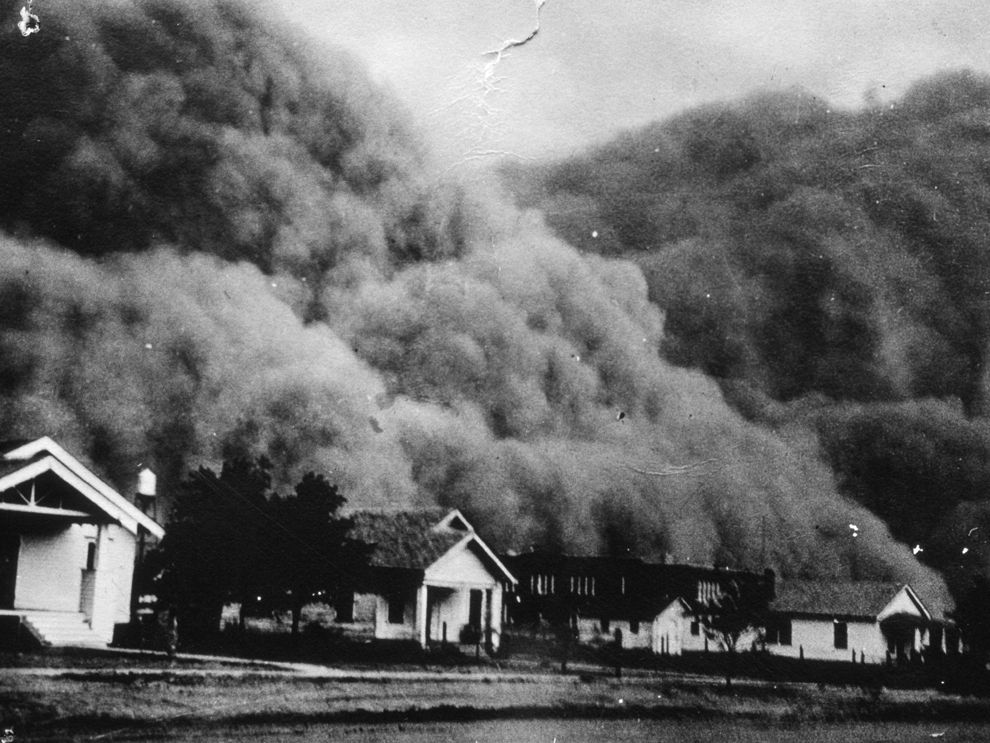 It's interesting that the wind patterns of the Dust Bowl Days were repeated in the March 13, 2019 'bomb cyclone' storm that created epic flooding and wreaked havoc on agriculture, the cost of which is unknown at this time.  The pressure drop that preceded this storm was a record-breaking 968 millibars in Colorado, creating intense winds similar to a category 2 hurricane.  A second 'bomb cyclone' storm moved throughout the Midwest on April 9 that was much milder, but echoed the same wind pattern; leaving a fine layer of dust on top of the snow we received in Minneapolis-St. Paul from as far away as Texas.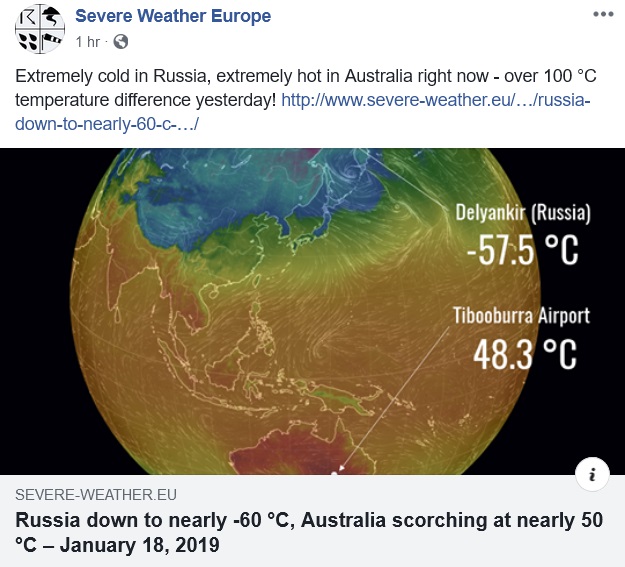 During January we experienced sharp contrasts in temperatures, characteristic of the applying Saturn-Pluto conjunction in Capricorn (11-20° Capricorn) that this Solar Eclipse degree strongly activated (15° Capricorn).  This was not at all surprising.
Our transitions are amplifying as we Turn the Age.  As Christopher Burt points out in his article, "March Madness …",
"Because March is a month of seasonal transition, among other impressive weather events, March 2019 has produced:
record cold (–46°F in Montana early in the month, a preliminary state monthly record)
record warmth (79°F in Seattle, Washington, on March 19, an all-time March record, and 81°F in coastal Quillayute, which smashed its previous March record by 8°F!)
one of the most powerful storms on record in the Southern Plains
historic flooding along portions of the Missouri River"
This eclipse also activated seismic activity in Alaska, beginning on November 30, 2019.  Again, the 'action' started up about a month before the Eclipse (which is typical) and increased in magnitude through January.  Several descending planets including Pluto mark this area for potential impacts.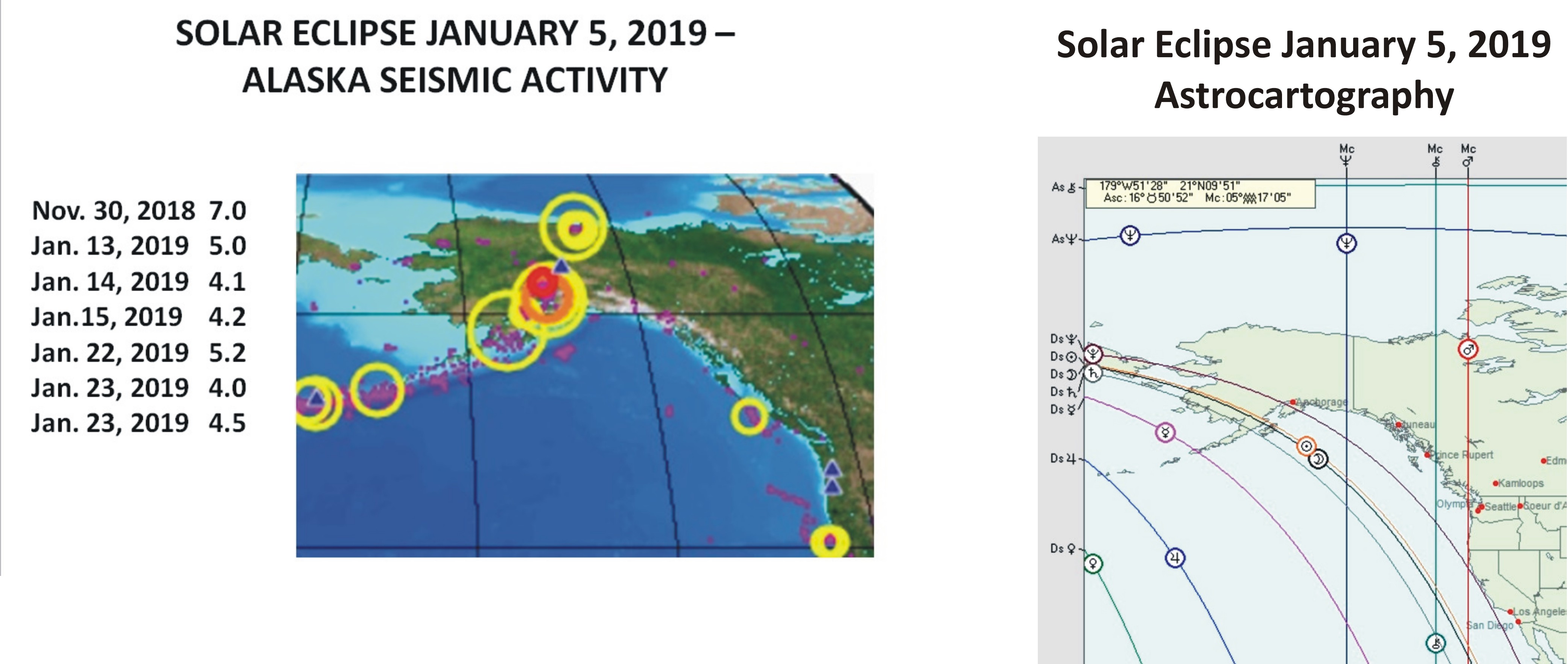 The geodetic astrocartography map for the January 5 eclipse shows areas of geo-political impact.  We note that the "Yellow Vest Rebellion" began one month before this eclipse in Paris, France.  Now it is April 15, 2019 and the Notre Dame Cathedral is burning!  The Mars Midheaven line (fire, rebellion, aggression) runs through Paris in this chart, clearly marking France as a flashpoint of energy release for anger, frustration, volatility and 'war' with this eclipse.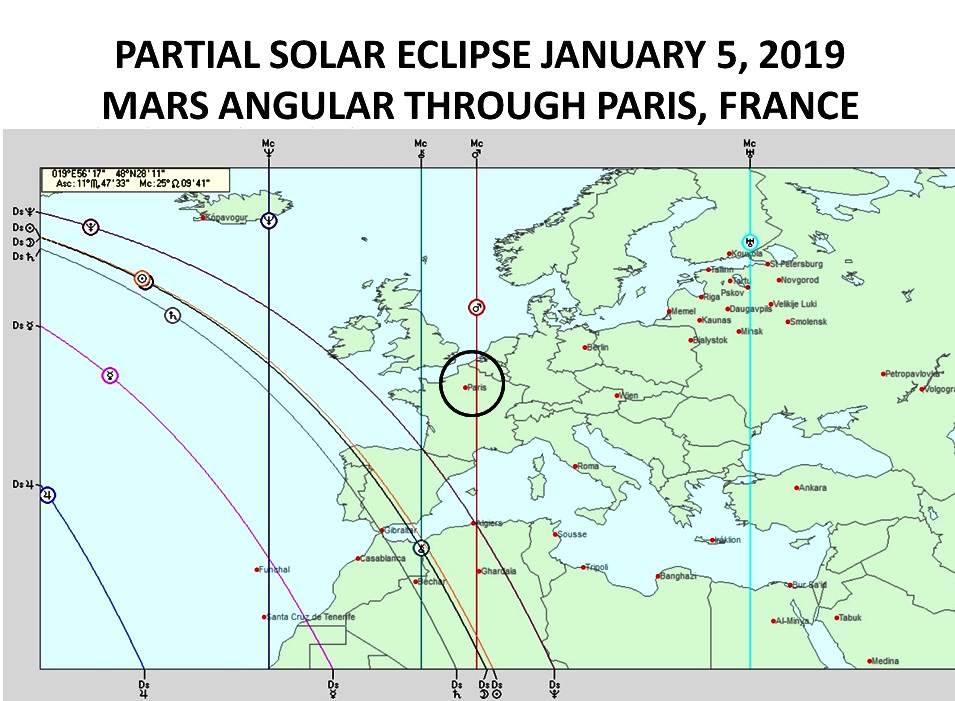 The burning of the Notre Dame Cathedral, a sacred, cultural gem dating back 850 years, signifies the magnitude of the Turning of the Age that we are now in, deeply disturbing many souls.
TOTAL LUNAR ECLIPSE – January 20, 2019
This eclipse occurred right above Washington, D.C.'s plumb line, setting the stage for critical issues to come and increased dramas at our nation's capital.  At the first degree of Leo/Aquarius and square to Uranus just entering Taurus, this Eclipse highlights United States of America leadership for significant public attention, disruptive changes, and provocative developments.  Our relationships with other nations is highlighted and emotionally charged.  Tight square (90° angle) between Mars and Saturn (hot and cold, on and off) makes for great difficulty in taking action, and getting anything done is complicated, though there is plenty of fiery spirit and passion on all sides.  This chart also shows financial inflation that is not well grounded in reality (Jupiter-Neptune).  Tensions with Mexico are accented in the third house, along with warring ideologies.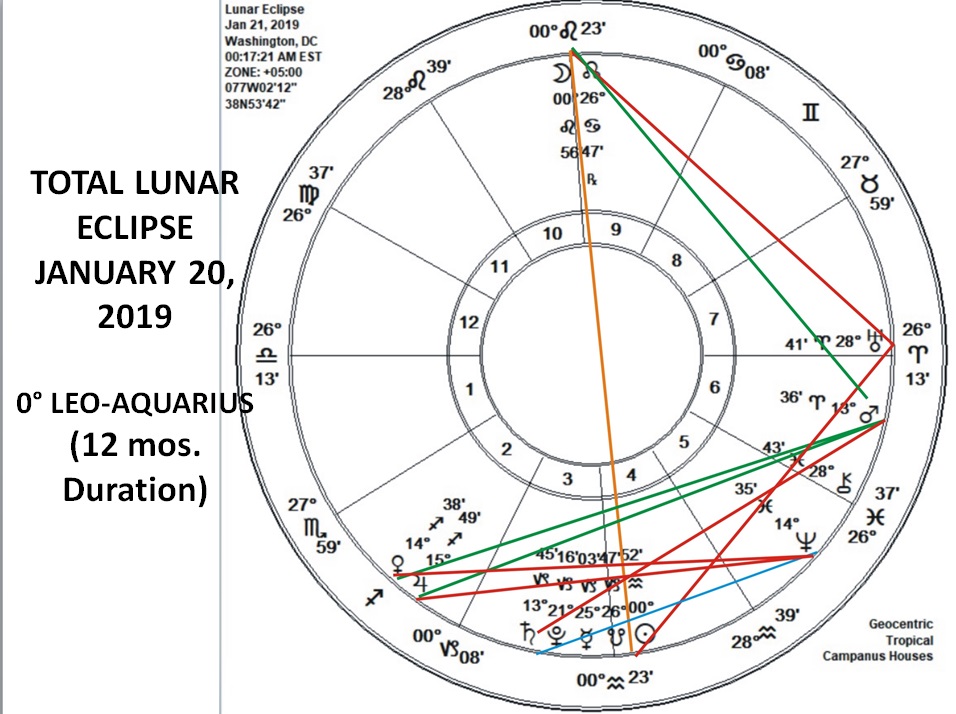 The eclipse shadow path runs through Mexico, just touching our southern border.  Need I say more?