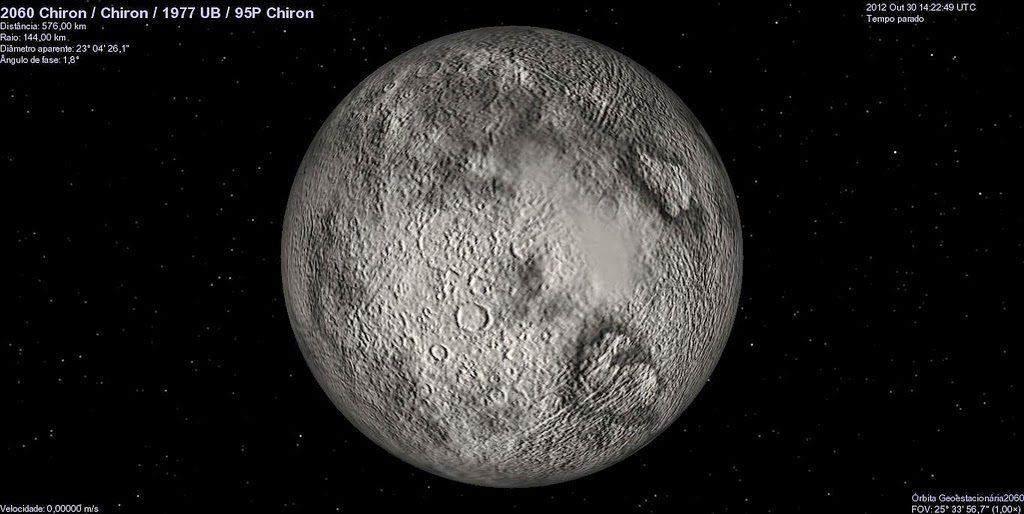 The minor planet, Chiron's archetype, is a subject of deep study for me.  My sacred work involves using information from Chiron's placement in the individual birth chart to elicit awareness, and offer insights and affirmations to those who want to take loving command of their lives, integrate whole-being, and live in tune.  Every unique soul path involves potential healing passages, described by Chiron's transit (current place) in the sky, whose mythology is best known as that of the 'Wounded Healer.'
Chiron's teachings contain the Key to resolving, unifying, and balancing divine, human, and animal aspects of our beings.  Such resolution is gained via fully inhabiting our Hearts in acceptance and embrace of the human condition; engaging our natural, deep soul-senses; claiming the full potential of whole life, and coming into peaceful presence in honor, love, and divine order. (See also my article on Stigmata.)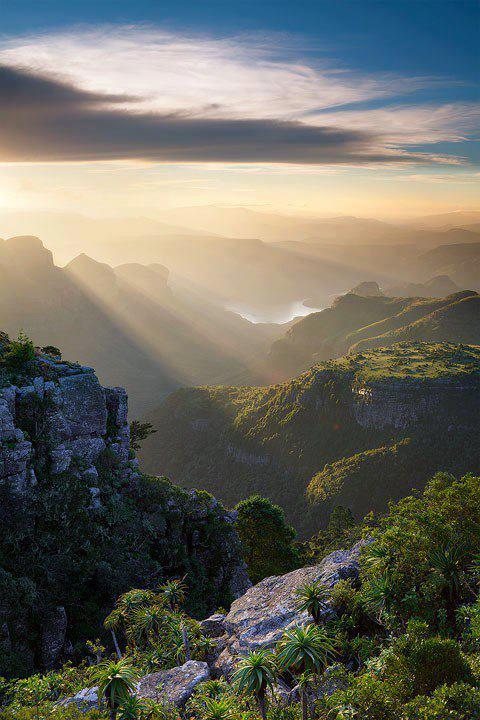 As we undertake the Chironic journey of self-discovery that begins with a firm commitment to heal our souls, we simultaneously enhance the natural development of our spiritual gifts and healing powers.  Courage, honesty, self-responsibility, and committed presence must be consistently applied as we step into our deepest fears, heal our most daunting pain, and face our long-term denials.   As we 'come back home' to our most precious selves — guarded and hidden away from the world — and settle into Core Truth of Deep Soul, our brightest light and gifts grow, bud and flower into sharing and fulfillment as medicine for a world in need. What could be more vitally important to us now, than to be a human touchstone for the union, relief, and healing of Heaven and Earth in loving Divine Order?  The Hebrew G-d name, Adonai Ha Aretz, meaning 'the Lord manifest in Nature', encourages us toward attainment of this ultimate earthly fulfillment.
Chiron is a small, mysterious minor planet in the outer solar system, of an origin beyond our system.  It's a potent significator associated with mind, heart, soul, and body unification and healing within, and outwardly in right relationship with Earth and all creatures. Chiron bridges personal and transpersonal consciousness and being.  It is associated with healers and healing process, energy conducting chakras in the hands and feet, and ultimately the liberation and mastery of Christ Consciousness.  "Chiro" means 'hands' and the words chiropractor, chirurgy (early word for surgery) chiromancy, are associated with Chiron and its mythical teachings.
Some people are more personally attuned to Chiron's associated life energies than others, and whole-being integration is not a conscious goal of every one.  Those who are strongly attuned with Chiron often have an especially difficult time with painful, wounding experiences in their youth, and must learn to re-tune their pronounced sensitivities as they heal and reclaim mastery — the promise of Chiron's Key.  Eventually, what was perpetually wounding and repetitiously painful evolves into relief, liberation, and transcendence of conditional sensitivities that previously were necessary to call attention to the soul-wound and its accompanying 'wound reality', deep beneath the surface of consciousness.  The distorted reality perception that accompanies the Sacred Wound ('sacred' means set apart) reliably re-creates the painful pattern(s) until the underlying issue is addressed, the damaged 'inner circuitry' is rebuilt.  Then Life can restore its whole being circle within our lives, hearts and beings, as we are designed to enjoy — our whole lives!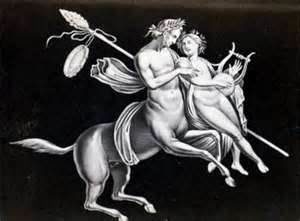 Chiron's place in your personal astrology chart offers information about the challenge of your soul-wound and its associated off-tune reality in particular areas of life.  Chiron describes the primal wound of individuating away from the Oneness, Light, and Love we came from in the Beginning which occurred when we descended into Earth bodies, into duality, sexes, personal consciousness, and experienced our first SEPARATION from the Whole that was intensely traumatic, damaging our identification circuitry like a 'hole in the soul' for every one on Earth.  As we are born into our lives and bodies, the wounding repeats early in infancy, via some separation, shock, or painful experience, that echos and re-constellates the wound pattern forward in time, until it is consciously and personally addressed for deep healing.
The wound is also created by our perceived separation of mind, body, and spirit in the human condition, and is healed by coming to honor, value, include, and enjoy our inner wildness, precious innocence, earthy sensuality, deep instincts and perceptive intuitions on an equal basis of veneration and value, as intellect, heart, and social 'success'.
Chironic Soul Pain is One of The Greatest Drivers of Addiction on Earth that repeatedly, compulsively propels us outside of ourselves in action to seek comfort and relief from our inner pain.  However, this effort for relief NEVER works.  It is essential to re-direct the compulsions as they occur into self-love, self-presence, feeling our feelings, and giving ourselves the love, attention, consideration, regard, acceptance, affirmation that we did not get in our formative beginnings, and can never get enough of from the outside world while the wound reality reigns.  THEN our lives can rearrange from repeating woundings and perpetual hungers into fulfillment and enjoyment of the gift of life, as we actualize our potential and assist others.  The initial healing can only be done by oneself (with Divine guidance and aid) within one's own being, and in compassionate service to others.  Thus we gain the intrinsic empowerment of taking responsibility and spiritual maturation.
Chiron refers to 'victim process' and eventually we come to realize that it is actually 'false victim process' in light of the bigger picture of existence.  Eventually we can see that every one is potentially a great and powerful being in becoming, and every one of us IS creating our life experiences.  We came into this life, ultimately equipped with the power and fortitude to meet with and heal every trauma, pain, and suffering we are subjected to.  But it takes self-commitment, time, and experience to gain the awareness that enables us to integrate our shadows and we must honor our weaknesses and protect ourselves until we can gain the life mastery of true freedom and conscious creation.
A perpetrator of abuse suffers unconsciously, though no less, and if correction is not made, will experience being a victim in the next cyclic manifestation of the complex.  Natural Law affirms that violations and abuses that injure others will unfailingly be called to account, whether or not via government and court systems during the lifetime of the abuser.  If we are victimized, we are strongly being urged by life to regain our healthy sense of self and boundaries that will no longer be violated, and heal our subconscious of any self-destructive and self-negating tendencies that unconsciously attract an abuser.

Creative will, action, volition, and conscious choice in response to conditions and circumstance, alternate with subconscious passions, drives, fears, appetites, and subjective emotions to create what we experience, and attract partners for our learning dramas.  As Carl Jung pointed out, "Until you make the unconscious conscious, it will direct your life and you will call it fate."  Eventually, what we formerly deemed negative — every challenge, trial, loss, drama, frustration and pain — can be welcomed as potentially empowering and liberating because we have come to know that reality is love based, and there is only Love behind the distortions of our resistance and painful experiences!  Then we come into blessed living, natural strength and protection, and the magic of love's ease can manifest more freely and creatively as we give and receive in secure, manifold and wondrous ways.
It also helps to understand that we play out the roles of wounder, wounded, victim, and healer, alternately in our life 'fields of experience' where Chiron is primarily operating, as portrayed in the personal astrology chart.  We attract other people to engage in these dramas and these four roles can simply perpetuate each other without real progress being made.  As astrologer, Adam Gainsburg, points out in his book, "Chiron, The Wisdom of a Deeply Open Heart," our soul's intention is to create a broken-open heart experience which reminds us how to inhabit our human heart, accept our shortcomings, and alchemize our soul-wound from perpetual pain into medicine and solutions to share with others.  We are required to come down to the ground (body) of human being.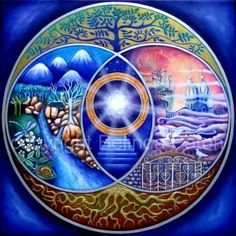 Another characteristic of our Chiron wound is that we can help others with our spiritual gifts, in ways we cannot receive ourselves UNTIL our soul-wound and its reality-distortion are resolved.  This is because our ego formed during the separation experience that created the wound, and the ego is invested in our remaining wounded, for its own viability.  What's helpful about this, is that the ego cannot gain a foothold in the light of the spiritual gifts for its own aggrandizement, or pass itself off as the channel.  Our unique divine light is kept pure in a manner that is, at first, beyond our understanding.
Furthermore, since ego cannot gain a self-identity context that includes and affirms our unique spiritual gifts and true healing powers with any objectivity; instead of uniquely gifted, we perceive ourselves to be flawed, damaged, and below par where Chiron is working in our lives;  which in turn is denied and avoided by the ego!
The wound-reality associated with our soul-wound is especially distorted and out of tune, because deeply held negative beliefs are at its root.  Not only are we unconsciously recreating the wounding and pain over and over again, but our perceptions are especially unclear and inaccurate.  We are 'wired' to hear, see, and believe any "evidence" that the false base of our acute inner pain, no matter how much of a reach — is true!  It is the ultimate personal subjective spin.   This 'reality' creates interference with innocent and accurate perception of life in the moment.  An example of this could be a child who interprets the words or actions of a parent as a terrible infliction of hurt and pain, when the parent had no such intention and cannot even understand how the child would conclude such a thing.
Bridging and Balancing Animal, Human, and Divine
In studying Chiron's myth and teachings, there is much to learn about re-balancing head, heart, deep soul and spirit senses, body wisdom, and Earth relationship.  Regaining our deep instincts and senses is more vital than ever now, for successful navigation of day-to-day decisions in times of accelerated change, amid increasing stresses of unnatural pollutions and environmental complications.  Developing, hearing, and trusting the wisdom of our bodies, energy testing for what empowers and disempowers, clarifying our natural discernment will keep us safe from the dangers of sophistry, clever counterfeits, and unaccountable, soul-less profiteering.
Chiron's Transit in the Sky
Chiron is currently finishing up in Pisces (first quarter 2019) where it has been since 2012.  We've been dealing with serious soul-wound issues in our history for the last six years, as the cycle dating back to  1969 has called collective attention to hidden abuses that have come to light, fruition and understanding now in the completion of Chiron's full circle of the zodiac, often by institutions.  An example that comes to mind is the Netflix docuseries, "The Keepers", which outed and aired extreme abuses and victimizations associated with the murders of Sister Catherine Cesnik and Joyce Malecki, and horrendous child abuse at Archbishop Keough High School in Baltimore, Maryland in 1969.
Negatively, Chiron in Pisces issues (especially square Saturn from 2014 thru 2018) have included escapism, unhealthy boundaries, distraction, addiction, victimization by deceit, illusion and theft, avoidance and denial of reality, and human strife in desperate efforts to perpetuate small-self complexes, unhealthy boundaries, and preserve comfort zones, which have become especially draining and promote dysfunction among those who refuse to progress from spiritual adolescence.  The result can be extreme confusions and insanity.  These issues will continue to present while we are in the 'dark' of Saturn-Chiron's synodic cycle that will re-set and renew in 2028.
But now we have a shift in our healing focus as Chiron enters Aries (February 18, 2019).  Now our soul-wound and healing process will involve healthy initiative and action — or not.  We can become our own heroes with great potency with Chiron in Aries.  We can regain a freer, healthier sense of pioneering Self.  We will also be dealing with headstrong initiatives that are out of tune with Nature, and out of order with Life.  War, militarization, and increasingly 'hurtful' weapons will amplify among humanity with Chiron in Aries.  Chiron's previous transit of Aries was from 1969 to 1976.  From now until 2028, we may note correlations to the 70s in our soul-healing process, may review our experiences then (if old enough), and gain better objectivity and understanding that help us release victimhood and grow into greatness.
We're also going to see merciless assaults (war) on what remains of Nature on our planet, indigenous people, wild animals, and the natural senses of people in general.  Are we going to allow desperate and greedy factions to destroy our beautiful, graceful home with no challenge or corrections?  Are we going to devalue our own innate senses and enable false authorities to rule over our bodies and beings?  If so, we are passively contributing to great, tragic suffering and self-destruction.
The next Saturn-Chiron cycle that initiates in 2028 at 7° Taurus offers us the opportunity to build a healthier relationship with the Earth into our shared values, and true wealth.  Yet a great struggle is portrayed by Astrology as Pluto in Aquarius squares the conjunction with a concentration of planets in Taurus, intensively involved.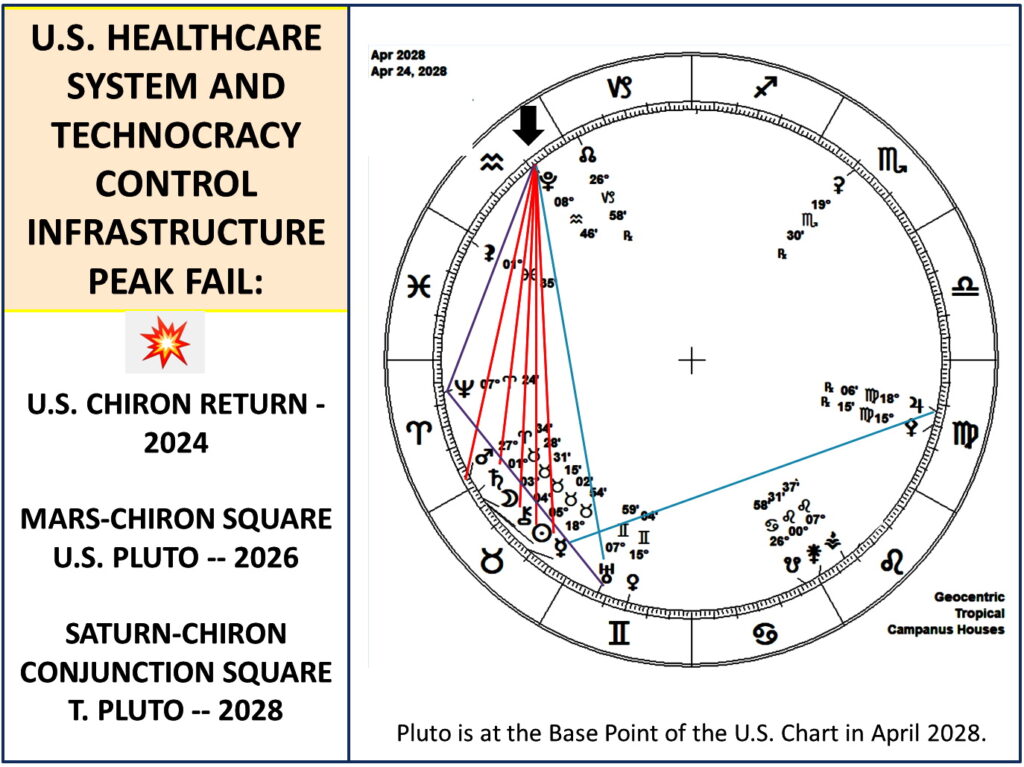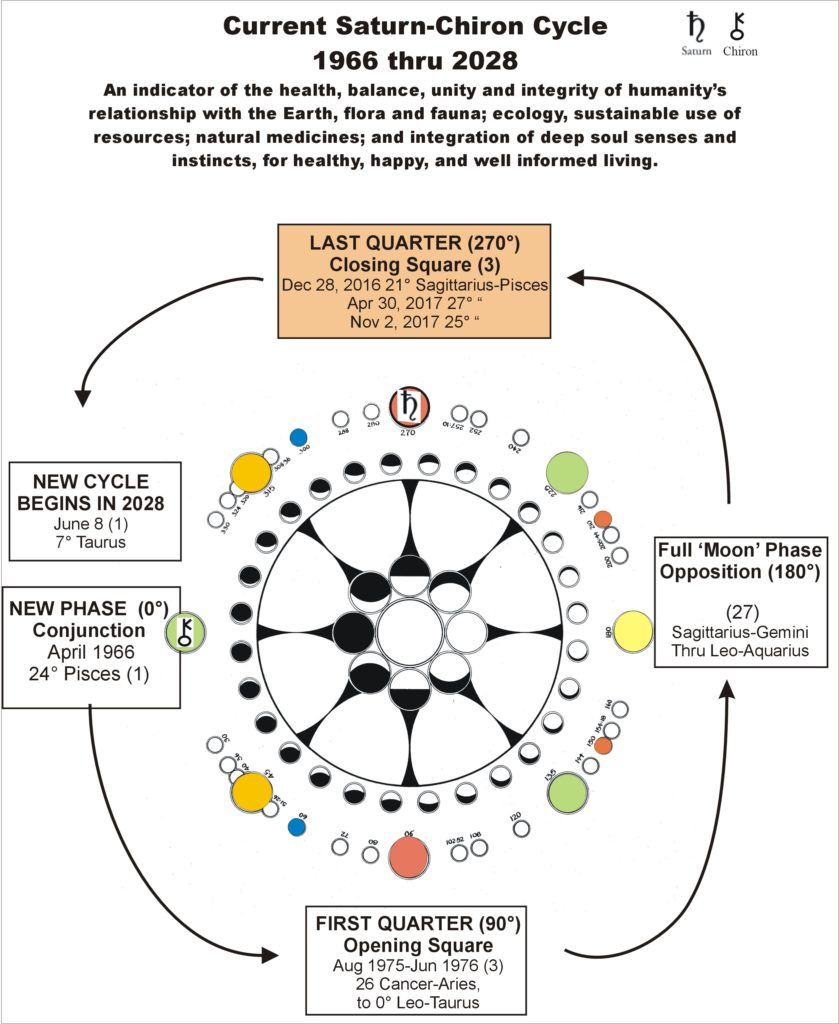 Chiron was in its closing square with Saturn in Sagittarius during 2016 thru 2018, portrayed in this graphic.  The closing square is the "seasonal fall" phase of the cycle, a crisis of release of everything that doesn't work; errors, failures, behavior modes, wrong investments and decisions, and corruptions dating back to the beginning of the cycle in 1966. Saturn and Chiron's relationship is waning now, decreasing in light, as we enter the 'winter' darkening phase until 2028 when their cycle renews again throughout creation.
In anticipation of this two-year Saturn-Chiron closing square, I wrote in December 2015:
The Saturn-Chiron Square brings up justice issues associated with 'false victim process', the institution of laws that impose undue bondage and control on the human spirit (keeping people spiritually adolescent and disempowered), and fomenting blame and hatred for perceived 'hurt'.  This is often a thinly disguised ego-lust for power and control over others to dictate how they should live.  In fact, human Saturn-Chiron distortions have been at the root of every mass movement that blames and abuses others through judgments and atrocities that are based on deceptions, bias, and false accusations.  Saturn-Chiron flashpoints (such as closing square) [historically] mark the worst finger-pointing and ill-informed hatred of the entire synodic cycle (62 years).  
The magnitude of hatred, rage and blame (HRB) among Americans due to disinformation and false victim process has increased beyond what I could have imagined when I wrote the above statement.  Distorted soul-wound realities have amplified to a fever pitch.  HRB is the red flag of victim process, scapegoating, and the small-self perspective that life is "unfair".  When one doesn't have oneself, one is a potential victim of — or terrified of being at the mercy of — others with different views, objectives, and values in a bully democracy situation that pits people against each other in perpetual power-scrabbling strife. Mutual honor and respect, diplomacy, equanimity, open-mindedness, good will and faith, and social grace are not possessed by those who are operating from a fear base and wounded sense of self.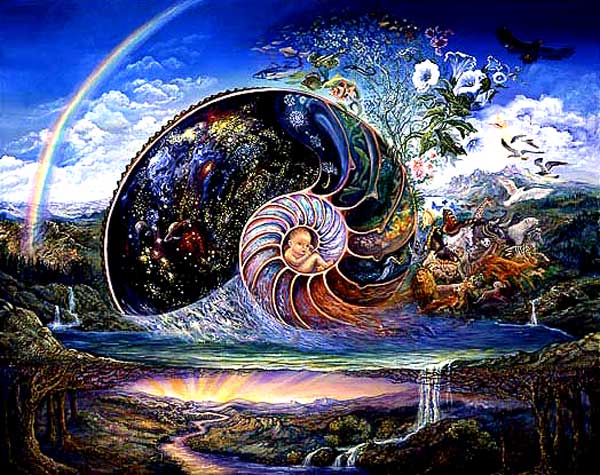 Yet, as the leaves of trees and plants die and fall to the ground yearly during the fall season, so too this great 62-year cyclical clearing and purging of Saturn-Chiron related manifestations marks a time when life energies withdraw to inner integrity, and distill into seeds of new potential, to germinate at the new cycle in 2028.  If we have used the energies of the current cycle constructively in good faith (1966 to date), this closing phase of Saturn-Chiron's relationship signifies re-attunement to the truth of core being and timeless vitality of Source, clarification, purging, and affirmation of worthy values — even as exploitations of Earth's resources by selfish human (inhuman) interests become increasingly desperate and poisonous, and require forceful exertions to maintain.  Every investment and endeavor that isn't oriented for the good of All Beings finds itself out on a limb of the Tree of Life, and like dying leaves, becomes compost — at the close of this cycle, or at a cycle specifically related to the death of the endeavor.
At its best, the stress of this closing square crisis flashpoint can be:
The devolution of simplification and clearer attunement with the powers of heaven and earth,
Fulfillment of spiritual disciplines and love of Truth,
The gaining of deeper confidence, security, and quality presence as we real-ize that we are backed-up by Life itself,
The rewards of compassion and commitments as a good and faithful servant,
The comforting affirmation of loving integration and due honor for the sacred inner animal (love and respect for every being); and,
Brightening spiritual wisdom …
… EVEN AS we witness increasing devastation effects of human ignorance and greed on our planet and relations.  It is the strengthening and restoration of conscious connection with Oneness of Omnipresent Loving Spirit, freed-up by the purging of everything that has occluded, questioned, interfered with, or negated that sacred connection in our hearts and knowing.  It presents the ultimate rewarding purification and affirmation of the good, honorable, and true, which will only deepen as the cycle wanes to its conclusion in 2027-8. Essentially, we learn to withdraw our sense of confidence, affirmation, and accomplishment from being defined by outer material world appearances.  We reorient to heart, spirit, and the Cause of all forms and manifestations, which is truly sovereign and less illusory.
But many will not gain such inner empowerment if they haven't been doing their inner work, and may slip into greater disconnection, confusion, distortions and pain as they perceive life to be increasingly and horribly wrong and unfair.
Much of the 'war' continues to be acted out with verbal attacks, underhandedness, duplicity, undermining and subterfuge.  Let's keep in mind that these times of greatest stress, are simultaneously times of greatest potential for balancing and mastering the energies involved.
HERE ARE SOME SUGGESTIONS FOR WORKING WITH YOUR CHIRON ENERGIES.
Hatred, rage, and blame (HRB) are reliable indicators that we are in our soul-wound reality.  Whenever we find ourselves in these negative emotions, we can take a deep breath, accept the situation as a teachable moment, look within and identify the wound-trigger.  What is the negative belief or self-concept at the root of the hurt?  How have we given another power to affect us in such a destructive way?  How can we extricate ourselves from feeling like a victim and take back our power with self-responsibility, regaining neutrality?  We are always at choice with this.  It's important to feel our feelings and not repress them.  Breathe deeply into them, and replace the old program with a healing affirmation of truth.  Objectivity is the first step of liberation from our soul-wound.  As long as we are operating from it unconsciously, we are very predictable.
Besides the obvious egregious problems we now have with animal abuse inherent in mass, soul-less food production and crowding them off of the land, our relationships with animals are deteriorating.  Since most people now only relate personally with pets, we are losing our value of, respect for, and vital teachings from wild animals. This directly impacts our relationship with our inner animal nature and its invaluable senses, instincts, and wisdom.  It impacts our very self-concept, as the diversity and beauty of animals reminds us of our best, forgotten or undeveloped potentials.  Losing respect, connection with, and honor of wild animals is assured self-destruction for humanity, because we typically lose our senses until we are completely out of touch with our bodies and true needs for healthy living.  Furthermore, humanity tends to lose our respect for forces greater than ourselves until we need a rude awakening to remind us to pay heed to our own innate senses.
Animals 'know' what to do to live in tune.  In their natural conditions they do not abuse each other.  They enforce healthy boundaries with their offspring, using physical, grounding correction if needed or withholding of nurturance, nor do they tolerate disrespect or rudeness.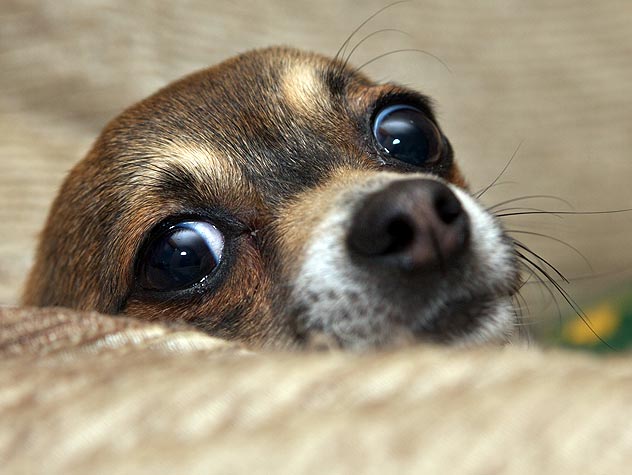 Human beings often relate with animals as 'poor babies', projecting human neediness or 'motherhood' onto them, trying to replace their need for a human child, spending huge sums of money trying to keep them in unworthy bodies, putting them on destructive, unbalancing medications, and disregarding their finer senses (do you use scented dryer sheets and have a dog?).  All of this is okay to a point.  But does it honor the animal for what it is?  A sovereign being with its own sense of self — unless it has been too genetically muddied.  The problem here is that people project their soul-wound realities onto their animals, which can be an imposition, drain, and distortion.
I have yet to see how violating the privacy of wild animals with tags, cameras, and cancer-promoting micro-chips has yielded ANY improvements in how they are treated by mankind.  Wouldn't it be more honorable to allow them their mysteries in due respect?   Are we now so devoid of natural 'knowing' that we need to closely observe animals rearing their young to be again inspired with how it should be done?  Maybe so.
Pay attention to the pets and animals that touch your life as they are especially valuable teachers.  Be vigilant to uphold your part of the deal, in making sure the animals in your care are well attended to.  Take care not to overshadow them with human projections, and honor them as they are.  They have their own path with Creator that is beyond our ken.
Walking on Eggshells to Accommodate Somebody's Comfort Zone?
This can be tricky when soul-wound realities of the current cycle are triggered 'right' and 'left'. Chiron's place in the astrology birth chart yields information about where we have both a too-thick, and too-thin skin.  Chiron's sign and element describe where the brightest light of our purest potential is highly sensitized to our environment.  This is experienced as painful and wounding, and we are the 'canary in the coal mine' with that particular issue among humanity. We might be painfully sensitive to polluted air, electrical/magnetic/radio pollutions, allergies, vaccine injury, there are myriad manifestations unique to each one.  There is usually hurt and frustration in youth with our Chironic sensitivities, and 'the world' typically does not 'get it' or understand our suffering.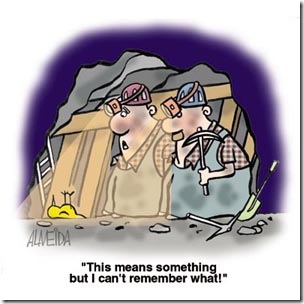 These limitations must be honored, in caring for ourselves.  The Chironic vulnerability issue IS the clarification of bright light shining on human misalignments with nature, health, and body.  The voice of every one should be heard on these matters, and adjustments made for harmony with nature and our well being.  But we are far too profit-driven now, and the voices of the sensitives are regarded as weakness, or personal defects, rather than clarifying messages to help us make corrections in how we live for a better quality of life for all.
Indeed, we might pass on if we don't honor our vulnerabilities.  But we should not accept their limitations with efforts to stay small and eternally vulnerable.  Yes, the ways of humanity currently violate natural laws, purity, and cleanliness in an unprecedented manner, adding to hurt and injury of all beings.  The truth is, until we gain progress in healing our soul-wound, we are unconscious participants in our own wounding and that of others.  It's a short circuit in the Circle of Life.
What will NOT work, is trying to control everything around us and remain static in a comfort zone.  As many planetary energies progress to a grand re-set in the early 2020s, we may have decreasing options of personal control, available aids, supplies and medications.  We need to continually step OUT of our comfort zones, stretch our capacities, work for better health and body care.  Above all, developing our spirituality WILL eventually help us gain liberation and mastery of the previously confining sensitive condition.  The Spirit of Life within us is greater than our vulnerabilities, greater than what is right and wrong, and human ignor-ance!  Freedom can be gained by healing the soul wound and clearing its reality distortion from our lives.  Relief of painful vulnerabilities is the significator of soul-healing graduation.  It's vitally important to honor them, but not identify with them.  It's helpful to remember the Truth that we are lovingly supported and provided for in all times and conditions.  Eventually what once was toxic and painful can 'find no place' to hurt and injure, when our bodies have anchored in the supreme truth of love-based reality.
In personal relationships, soul-wound realities of the 'small' can keep us on tenterhooks, dancing around somebody's wounded psyche, which is draining, because it is NOT reality.  There is a balance between not enabling, propping-up, or feeding somebody's too-small, non-present soul-wound reality, and being too harsh and insensitive with them.
Then again, that person's sensitivity might be a message we need to hear for more awareness about our own self-care and honoring of nature.  We may indeed be violating their space with self-centeredness and disregard for right order.  If so, that message will become louder in time, if we dismiss it.
Social Causes and Hypocrisy
Our Chiron pain moves us to take up causes.  You can readily identify somebody's Chiron issue by the cause they are passionately involved in, that never seems to change.  And if we look honestly at ourselves, we will find ways in which we unconsciously play out hypocrisy with our cause.  An example would be someone who is especially passionate about saving a species of animal they love and unconsciously identify with.  Yet that same individual is wasteful of resources in a way that directly affects the habitat and well being of that particular animal.  It is a dissonance between conscious identity and unconscious behavior.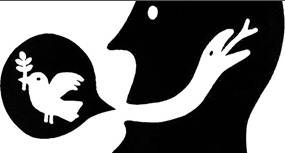 Until our Soul Wound and its 'reality' are healed (a prodigious accomplishment), we are a hypocrite to some degree.  This is a process of learning how to inhabit heart and soul.  We may 'know' something in our minds, but aren't able to live it in truth and action.  This is a human condition we are all working on, on the path of soul.  But it's important not to deny and enable hypocrisy that is the cognitive dissonance of a refusal to 'walk the talk', especially if it is injuring others.
I'm reminded of a woman I spoke with on a plane who related to me that she works with people who have eating disorders.  At the end of our conversation, she admitted, "I have an eating disorder myself."  This shouldn't be judged.  As we re-claim our light in a soul-wound matter and alchemize it into medicine for others, we may struggle between the victim and mastery.  And that work can sometimes be our true career calling.
We also play out our soul-wound pain as separation addiction, easily finding excuses to disconnect from others and 'go it alone.'  Yet this behavior does not honestly address the wound.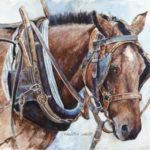 Pushing the Body Too Hard and Ignoring Our True Needs Is Beating the Workhorse
The body is our sacred ground, and should be treated with loving care, attention, and responsiveness to its needs.  Force is never a good idea, not even at the gym.  People who do that long term are going to have a big problem.
Our Soul-Wound and Its Gifts Can Be Used As An Escape and Addiction
Where Chiron's energy is strong in our lives, marks where our purest Christ-light spiritual gifts and genius can develop into our brightest contributions.   Yet ego is kept out of the mix so we actually feel deeply flawed and incompetent until our gifts are consciously freed-up from the wound-reality, and re-grounded in deep-core-self to flower as intended.  Other people, beginning with our parents, perceive our gifts and express encouragement and appreciation, though we can't believe it's true (though we dearly wish it to be).  Yet, our soul-passion sources from this Light and we love to immerse ourselves in the gifted area of life, which can, again, be a way of staying comfortably small.
Our gift is not meant to be hidden away and privately enjoyed, but developed and shared, so we need to keep a balance between escaping into the blissful gift and resisting coming out with it. Coming out with it may be extremely sensitive and scary at first.  We should also watch if we are using it as an escapist addiction which produces only disappointment of unrealized potential, self-negation, repression and a reality check eventually.
Using Discernment About When to Become Involved in Human Dramas on Another's Behalf
Chiron brings up the issue of 'saving' others and saviors.  Remember, that people who are playing out victim-perpetrator dramas, are unconsciously choosing to dance that dance … every dance takes two.  Stepping-in to save somebody will not help anyone at all if that is the situation, and the 'saved' one will only recreate the drama elsewhere.  We need to remember that every one is potentially a great being, choosing their quality of life, consciously or not.  If we make a decision to help or save somebody, and then feel disillusioned and drained, it is because we have enabled their false victim process instead.
There are times when we truly need help; we are not meant to solve everything on our own.   Accepting our vulnerability and asking for assistance may be the honesty needed in self-acceptance and healing a soul-wound.  Such exchanges are cleaner and promote growth and heart-connections among us, where Spirit will lovingly work through every available avenue.  These exchanges are mutually beneficial, growth, and faith-promoting mutual support and win-win.
Are We Americans Setting Ourselves Up for An Epic "Handless" Situation?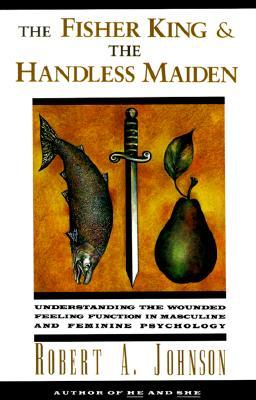 Potent healing energies associated with Chiron move and express through hands and feet, and one of the best books I've come across for very enjoyable teachings on this matter is, "The Fisher King and the Handless Maiden:  Understanding the Wounded Feeling Function in Masculine and Feminine Psychology," by Robert Johnson.
In the tale of the 'Handless Maiden', a Miller, using traditional milling methods that require time, strength, and hard work is approached by the Devil who offers him a deal.  The Devil offers him new machinery information that will make the milling work much faster and easier and money will be pouring in like never before.  In exchange for this career upgrade, the Devil asks to have, "That which is behind your barn.", which unbeknownst to the Miller, as he agrees to the bargain, is his own young and beautiful daughter.
A great book for those who like to delve into the mysteries of life, archetypes, and humanity, Mr. Johnson's relating of these stories and his erudite observations is an excellent read.  The book is loaded with Chironic insights, and highlights an important truth:  "To gain a bargain at the expense of some inner value is extremely dangerous. … To buy material comfort at the cost of feeling values is the devil's bargain."  [p. 62]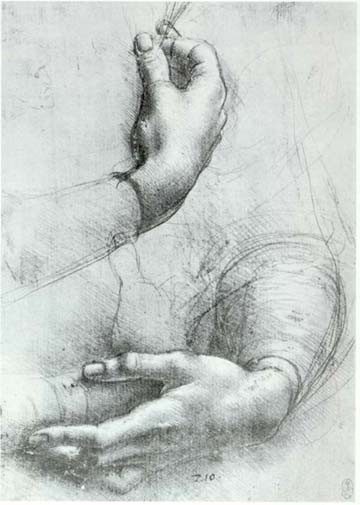 In the tale of the 'Handless Maiden,' the Miller's daughter's hands are cut off and taken by the Devil.  Thus she cannot 'do' anything, even when she marries a prince and has a baby, she cannot care for her own baby and has to rely on others.  The Prince has lovely, silver hands crafted for her, but there is little she can actually do with them.
Our American society is currently in the throes of beginning to realize we have struck a devil's bargain.  The Industrial and Technological Revolutions have transformed our lives extraordinarily.  We speed about in cars, tap and stare at cellphones, stay up late with the lights on, run back and forth to stores or order our living supplies online, and chill with daily entertainments.  Yet a staggering toll on our happiness and well being is being exacted.
America has gone from a 69 percent manufacturing economy in the 1950s to a 72 percent consumption economy in 2016, which is unsustainable, and a dangerous gap between our currencies and real value is widening.  I'm not convinced that mass production of food even works well for us at all.  We don't know how to do much anymore. What is the right place for machines and robots among us?  And how is it that we are increasingly enslaved, regardless?
Corporations are planning for robotics and artificial intelligence to put masses of people out of work shortly.  Cities, states, and countries are adding anticipated profits from 5G wireless installation (that will fry us) into their budgets.  Corruption abounds in every level of our governments.  Unaccountable, international corporations are rising into profit-driven power that is stealing our last shreds of justice, and nullifying the interests and health of the People.  We are  in confusion from a massive loss of natural senses and soul.
Waiting in line at a bank recently, I saw a young man sitting and thumbing a cellphone.  After some time he put it down, and the look on his face was unhappy; a wounded look of addiction, restlessness, discontent; a hurt, hungry, compulsive need to lose himself in some distraction.  Are we forgetting how to live?
People who suffer in families with alcoholics and addicts, those who are working dead-end jobs, the unemployed and under-employed, those who avoid or fear the challenges of reality, those who cannot find opportunities to engage and grow, often find themselves in a hand-less situation; they don't know what to DO.  Everyone feels stuck from time to time in the vexation of not knowing what to DO in times of discouragement and confusion.
I'm concerned that our closing Saturn-Chiron cycle may precipitate a mass, paralyzing, hand-less condition for many people over the next decade, especially if we don't develop more community, natural synergy, and neighborly care among us.
This will not happen if the people KNOW they cannot be replaced in any endeavor that requires the magic of human heart, hands, and consciousness engaging in their sacred work (described in their astrology chart), fulfilling their true purpose and mission, be it ever so humble, for better quality life for all.
We did not come here to strive and compete to fit-in as a cog in the machine.  It's very important to remain vitally relevant, to continually develop our skill sets, evolve our sacred work, and fulfill our earthly mission.    It is important to honor and commit to true values, and the passion of heart which will see us through great changes that are coming, secure in knowing that love-based reality is always our faithful friend, and the economy of love will never fail.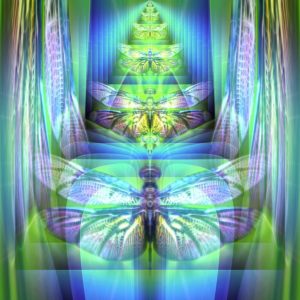 When appropriate in my Astrology chart consultations with people, I list dates of Chiron soul-wound activation, so they can see the pattern of being triggered into their unique reality distortion, and gain objectivity.  As we learn to unhook from victim process, what would have caused us acute core pain in the past becomes a time of brightened spiritual light, joyous engagement in service, and deep fulfillment  in our most passionate ministry for others.  There is nothing that brings people more happiness and fulfillment than to help others toward mastery and understanding of what was once their own most painful and debilitating challenge.
We are Wholely Loved, Cosmically Embraced, and Continually Encouraged!
The voice of Creation and the Heavens calls us daily to take heart and claim the gift of abundant, blessed life we have been graciously given.  The uncertainties of the future we face together now, can serve to free us up from our limiting concepts of what we can and cannot do, and how the wonders of Life might manifest!  Do you know what you will be doing in three years?  We mustn't assume too much.  The stability and predictability that used to be our norm 15 years ago is gone.  We are doing more inner work individually, than we realize.  In due time our best will come forward and new life and vision will refresh our hearts and our planet in a renaissance of inspirations!
I enjoyed living in tune several days ago, when before spading a garden space, I sent out a message to the earthworms that I did not want to injure them.  Every turning of dirt was earthworm injury-free!  How deeply rewarding!  The Full Circle of Life is affirming indeed!  And heaven IS here, with honor and glory for ALL.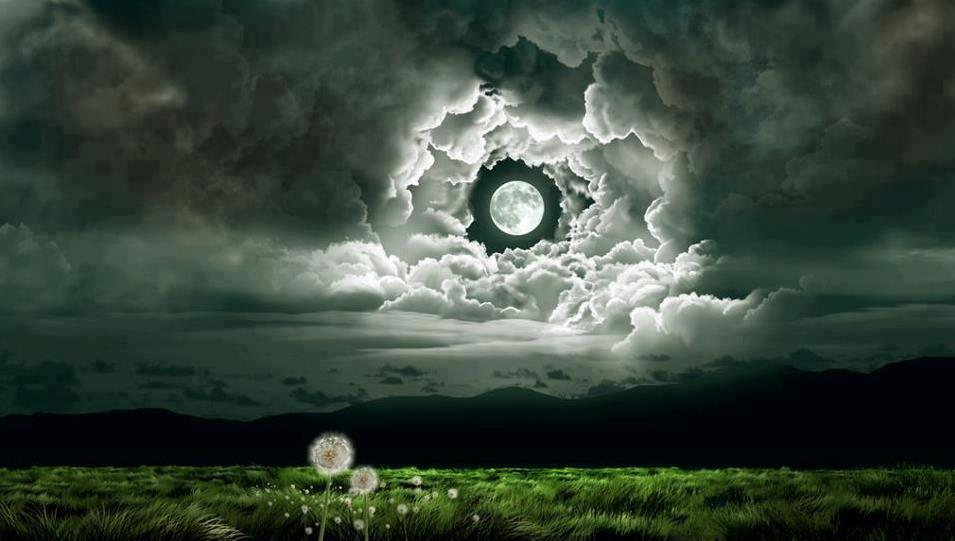 Updated 2-14-19